SUMMER INNOVATION GRANTS FOR PPS STAFF
*Summer Innovation Grants application window is now closed.*
FPPS will offer up to $750 for individuals or up to $4,500 for teams of teachers (or other PPS staff) to engage in curriculum planning, school team collaboration, or other summer work intended to advance new approaches to student learning or otherwise prepare for the 2022-23 school year. FPPS Summer Innovation Grants are meant to support work that would not otherwise be funded in the PPS Annual Budget.
Please note, we are NOT encouraging PPS staff to work more in the summer. We know how hard you've been working and how tired many of you are. But…IF you plan to work, we want you to be compensated!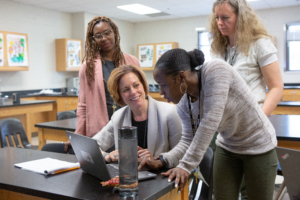 Applications Available:  Monday, March 28, 2022
Applications Due: Monday, April 25, 2022
Decisions Shared: Friday, May 6, 2022
Brief Grant Reports Due: No later than Friday, September 30, 2022
Please complete the online grant application no later than Monday, April 25, 2022, at midnight. Applications received after the deadline will not be considered. 
Grant guidelines:
1) Grant funds are only for PPS staff planning or collaboration time, at a rate of $30 / hour. Summer Innovation Grant funds can NOT be used for supplies, books, food, transportation, workshops, conferences, outside consultants, etc. 
2) Grant must be used in full prior to the start of the 2022-23 school year—this is summer work.
3) Principal and community coordinator support is required.
4) Group work is encouraged. We are unlikely to fund multiple applications from the same school.
5) Applications will be selected based on impact on student learning, innovation, and alignment with Portland Promise and/or the district's priorities.
6) A very brief summary of the work completed will be due to FPPS at the end of the summer.