PPS Food Fund Update: The families of many Portland Public Schools students are food insecure, and those students depend on daily school meals to get enough to eat. Our food insecure PPS families also can't afford to stock up on food during this pandemic the way other more-advantaged families can. Donating to the PPS Food Fund can help get these families through this crisis.
The PPS Food Fund is a collaboration by the Foundation for PPS and Food Fuels Learning (FFL) to help ensure food security for PPS students and is made possible through generous donations by the community.
PPS Food Fund Grants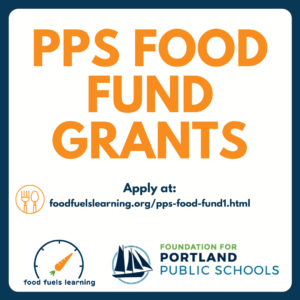 Our partner, Food Fuels Learning, is releasing another round of PPS Food Fund Grants up to $2,500 are available for organizations or projects that work to build immediate or long-term food security for PPS students and families.
To apply for PPS Food Fund grants to address food insecurity for Portland students and their families, visit the Food Fuels Learning website.
For more information on food insecurity in the local area, the Cumberland County Food Security Council has more information.