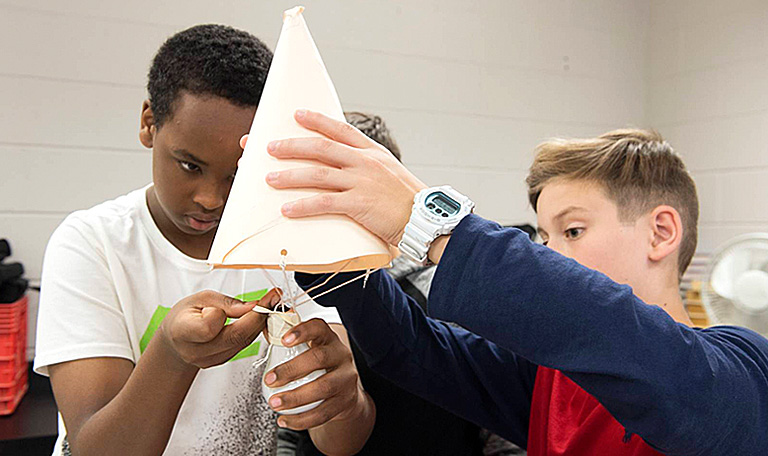 The Foundation for Portland Public Schools (FPPS) is a nonprofit organization that serves as a catalyst for increased educational opportunities, achievement, and equity for all Portland Public Schools students and staff.
Our vision is to strengthen schools through community investment. If our community comes together to support educational enrichment and innovation, we can ensure that PPS students will be fully prepared to participate and succeed in a diverse and ever-changing world. 
Strategizing with PPS leaders
FPPS helps make the vision and goals of the district a reality, such as:
Addressing Unmet Needs of our Schools
When the Portland Public Schools need help, FPPS is there. For example, our Families in Crisis Program exists to provide emergency, one-time rental, utility, or medical relief. The PPS Food Fund supports food delivery, a culturally appropriate food pantry, and snack programs at schools.
Accelerating & Deepening Systemic Change
Equity is at the center of the Portland Promise, the PPS strategic plan. We are committed to the work of rooting out systemic and ongoing inequities in our schools. Recently, FPPS fundraising and community building supported these efforts:
One of our organizational goals is community engagement. FPPS has been co-planning and facilitating a Reimagine Family Engagement series for parents across the district. Together, we've been discussing, learning, and brainstorming about how to make school-based parent groups more inclusive, what caregivers' roles can be in understanding and supporting school-based initiatives, and best practices for fundraising.
FPPS runs two annual grant programs to support teachers and other PPS staff. Each fall, we run our Equity and Innovation Teacher Grants program. The goal of this program is to allow staff to invest in innovations they believe will have a meaningful impact and reach for students. In the spring, we provide grants for teams of teachers and other staff to plan and collaborate over the summer. Last year we gave grants to almost one hundred teachers, impacting over 10,000 student experiences!