Step Up Award Provides Financial Assistance to Portland High School Multilingual Student in the Make It Happen! Program
The Foundation for Portland Public Schools is thrilled to announce Didon Maombi Heri as the latest Portland High School student chosen to receive the Step Up Award, now in its 4th year. The Step Up Award at Portland High School provides funding for students in the Make It Happen! program who would otherwise have to forego school-year extracurricular opportunities in order to work after school and/or on weekends. Didon, a rising junior at Portland High School, will receive $1,250 per semester until graduation for her last two years of high school.
A small awards ceremony took place at Portland High School on May 19, 2021. Award creators Bill and Ann Weber; Portland High School Principal Sheila Jepson; and Make It Happen! staff members Danielle Wong and Tim Cronin spoke at the event.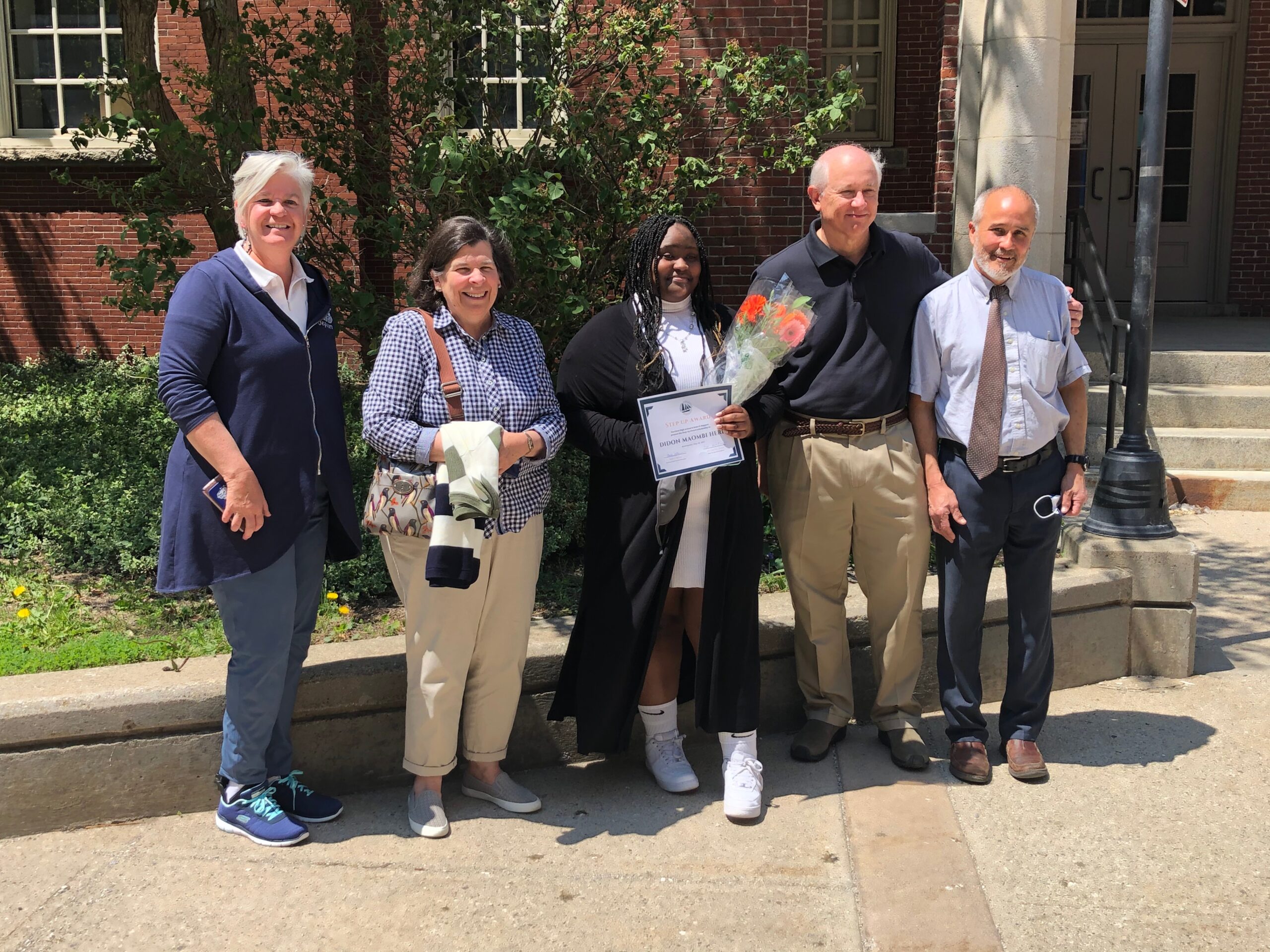 The Step Up Award is the creation of Ann and Bill Weber, parents of two PHS graduates, who state: "We know kids are more motivated to come to school because of extracurricular activities. The opportunity to work as a team or lead a group effort is invaluable to growth and developing leadership skills which can often lead to better grades. Many kids aren't able to take full advantage of extracurricular activities because of family responsibilities or the need to supplement the family income. The Step Up Award allows deserving kids a chance to grow and mature and become more productive citizens through involvement with athletic or co-curricular activities."
Make It Happen! is a nationally recognized college readiness program designed for multilingual high school students. Students who attend Portland's three high schools work closely with site coordinators, volunteers, and community partners to build competitive academic profiles for college admission and learn how to navigate and access financial aid. In addition, Make it Happen! students are encouraged to take challenging classes, improve their standardized test scores, engage in leadership activities, community service, and career readiness opportunities.
Didon Maombi Heri was selected for her passion and engagement in a wide variety of activities, internships, and leadership positions, as well as her strong academic performance. Didon is originally from the Democratic Republic of Congo. Since she's been in Portland, she has been involved with the Women's Rights Club, the Inside Medical Club, the Telling Room, Portland Empowered's Youth Engagement Partners, Upward Bound, Peer Leaders and more. Didon also enjoys photography, swimming, basketball, languages, and movies. She dreams of becoming a cardiovascular surgeon and remaining an activist.
"The Portland Public Schools is very grateful to the Weber family for providing our students with the opportunity to participate in extracurricular activities, giving them the chance to engage more fully in the educational experiences offered at our schools," Portland Superintendent Xavier Botana said. "This family's generosity is a prime example of how individuals and other community partners can truly make a difference in the lives of our students by supporting the Foundation for Portland Public Schools and its goal of improving the opportunities available to PPS students."