Eloise Colhoun is a twelve-year-old, sixth grade student at the Friends School of Portland. Over Thanksgiving break, she and her dad watched a video of huge lines of people lined up for Thanksgiving meals. Eloise was profoundly affected by the scene and decided to take action to address food insecurity in her own community.
She reached out to our friends and partners at the Good Shepherd Food Bank. They told her about programs to distribute culturally appropriate food to PPS students and families, the backpack programs, school-based food pantries and other work supported by the PPS Food Fund. Eloise decided that helping kids her own age was how she wanted to focus her efforts. So she started a food drive by making flyers and hanging them in her school. She put her food drive in her school's e-bulletin and emailed a large list of extended families and friends asking for support. Over just a few weeks, Eloise collected over 80 pounds of food that she donated to a local food bank and raised over $1800 that she donated to the PPS Food Fund.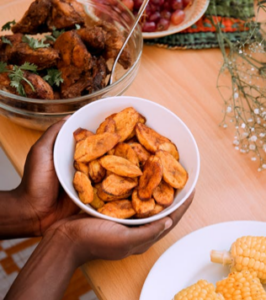 Using the money Eloise raised, The Foundation distributed $100 vouchers to PPS families to purchase the foods that they typically eat directly from local, immigrant owned ethnic markets. Not only did this empower families facing food insecurity by providing independence and the dignity of doing their own shopping, it also supports small, local businesses. And each of the ethnic markets in the program agreed to let PPS families shop with a 10% discount!
In addition to Eloise, we'd like to thank everyone else who made this voucher program possible: Good Shepherd Food Bank; the Hudson Foundation; PPS social workers and parent community specialists (led by Melissa McStay, Maureen Clancy, Sarah Beam, and Susan Wiggin); Claude Rwaganje of Prosperity Maine; Mufalo Chitam of the Maine Immigrant Rights Coalition; Jim Hanna and the team at Food Fuels Learning; and the owners and staff of the Moriah Store, Tesoro Market, the African Mobile Market, Portland Halal Market, Serey Pheap Market, and Sindbad Market. This is truly a community effort.